When my son bought a pair of VR goggles two years ago, I wasn't surprised. Gaming is his hobby, and now he had bought another toy. But when my friend and partner Robert told me about his new VR glasses, I was astonished. What for? To look at virtual worlds, or does he want to move our Leadership Learning Journeys into VR now? It wasn't that far from the truth.
Our partner Lumium is a VR pioneer. Lumium doesn't develop games, they don't use VR 'for fun' – even if it is fun. The two founders Lukas Karwan and Michael Schranner are all about experience. They convey VR experiences. And these are deeply human, immediate and emotional. Lukas and Michael invited us to a VR Experience in Augsburg. There, in the bright rooms of the old 'Glaspalast', they now develop innovative applications around Virtual Reality. Together with three other fellow participants, we first received a briefing, then put on our glasses – and the journey began.
We immediately found ourselves on a spaceship, with planets visible through huge windows. Large rooms, connected by transitions, strangely lit, and next to us suddenly avatars – the other fellow travellers in VR.
Lukas was also there and gave us tasks: wildly scattered were small and large cubes, which we should first stack, later sort by color and move in space. But how do you grab a cube, how do you move it? According to which rules do movements and (non-verbal) communication work in VR?
At some point we began to cooperate, quickly learned to orient ourselves, to work together, to help each other. Luke's tasks could only be accomplished through cooperation – in a completely foreign world with its own rules and without being able to distinguish our avatars.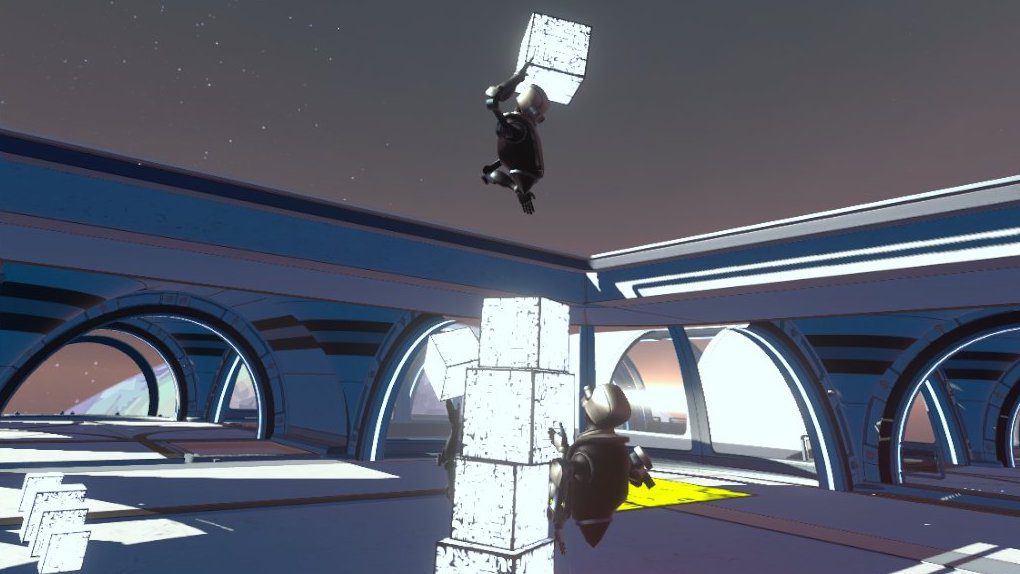 Experiences in a unknown world
In the foreign world we learned quickly, cooperated, oriented ourselves. Mostly without words, but by observing and experimenting. We were successful. After about 45 minutes, the journey was over. All avatars gave each other a high-five, took a last look out into the universe – then we returned and were happy. Now came something important: reflection. I was stirred up after this intense experience. It reminded me of my travels to places like Delhi or Cairo. Everything foreign, everything working according to different rules that we don't understand. It overwhelmed me. Ute Müller from Lumium asked us questions to reflect:
What did we experience?
How did we learn?
What helped us to cope with the tasks?
How did we cooperate?
And what of this is relevant in 'real' life?
What was remarkable to me was that all of the experiences were 'real'. I was excited, curious, tense, frustrated, playing (experimenting), learning, cooperating, and happy about our successes. These were real feelings and experiences, not virtual ones. Through the VR detour, everyone experienced and witnessed intensely and directly.
Lukas will explain later that what we felt was "Presence." This Presence is what makes VR so unique, a kind of cognitive illusion. Although we are aware that we are actually in an office with five other people and VR goggles on, our brains still can't resist the VR world and react as if the space station were real.
Relevance for organization and leadership
Through the VR experience and reflection, I realized: this can be a powerful element in developing leaders, teams, and an entire organization. Instead of talking theoretically about agile methods or new models of organizational development and leadership, we can create immediate experiences.
Cooperation without hierarchy
When we put on the glasses, hierarchy was gone. No matter who we might be in 'real' life – boss or trainee – it didn't matter here. We had to learn quickly to solve tasks together, and anyone who tried to hold on to their hierarchical role would be ineffective. What counts is presence, learning together, cooperation at eye level. And the experience: it succeeds fast, probably much faster than within the usual organizational rituals.
Constructions (bias) dissolve
When I met the fellow Lumium members, I immediately – and unconsciously – formed a picture of each one. Young, old, nerd, manager type, interesting, boring, likeable or not. All just (pre)judgments about people I didn't even know. I call that constructions of reality. That dissolved within seconds.
I didn't know with whom I had stacked dice so primly, who had helped me or I him/her. It was irrelevant. In 'real' I might have chosen my cooperation partner based on sympathy, in VR it only mattered how well we could cooperate to solve a problem. Are my (pre)judgments perhaps not correct and relevant at all, but hindering? In VR, they are overcome.
We are capable of action – always
Imagine landing on an alien planet. Everything is different, works according to unknown rules. You don't know the language, can't interpret signs, complexity overwhelms you. You become afraid, uncertain and paralyzed. But then, step by step, you conquer this new world. You try things out, learn quickly, and after a short time you gain confidence. The world remains complex, but you learn its rules.
That's the greatest experience for me personally: knowledge and experience don't help me in VR (at first). Only presence and trial and error. Getting involved and acting. Usually we spend our lives mostly in routine mode. We arrive somewhere by car, but can't remember the trip because we were on the phone, listening to the radio, or our thoughts kept us busy with yesterday and tomorrow. Nevertheless, we have reached our destination.
But when environments change, we need to get out of routine and into presence. Open the mind – become Mindful. Then we remain capable of action. And VR helps us to make this experience very immediate and intense. This experience – a collective experience – serves as the basis for change. And we can create this experience anytime, anywhere. Even in our familiar environments.
Future competencies
Our conversations with Lumium are moving to the next round. I firmly believe that some learning experiences are created faster and more intensively through VR. At triangility, we work with leaders on new principles for leadership in the future – where knowledge and experience don't help us, or help us only to a limited extent.
Complex trends such as digitalization, analytics & AI, experience economy, neo-ecology, sustainability, but also increasing dynamics in social change, politics and economy – all this requires a new form of leadership. Adaptability, agility, innovation, resilience need presence and cooperation at eye level. Leaders need to establish new principles, practices and competencies for this.
And many of the competencies can be experienced quickly in VR. Soon we will put VR goggles on executives together with Lumium and take them on an intensive journey….
If you want to be part of it, write to us.
CO-Founder of triangility, Systemic Coach, Facilitator, Trainer
Michael Pohl started his professional career with a degree at the college for Accounting and IT, followed by studies at the University of Bradford (UK) with a Diploma in Management. In the past twenty years he's been working for a number of IT companies and was founder and Director of New Business Solutions GmbH, a sales service and consulting firm. Since 2009, Michael develops and delivers training primarily in EMEA and the US. He holds various business certifications such as Business Value Specialist, but also in Systemic Coaching (IGE), Integral Organization Development (imu) and Future Leadership.